Tech Trek Camp Curie at Stanford University Campus;  July 5-11, 2020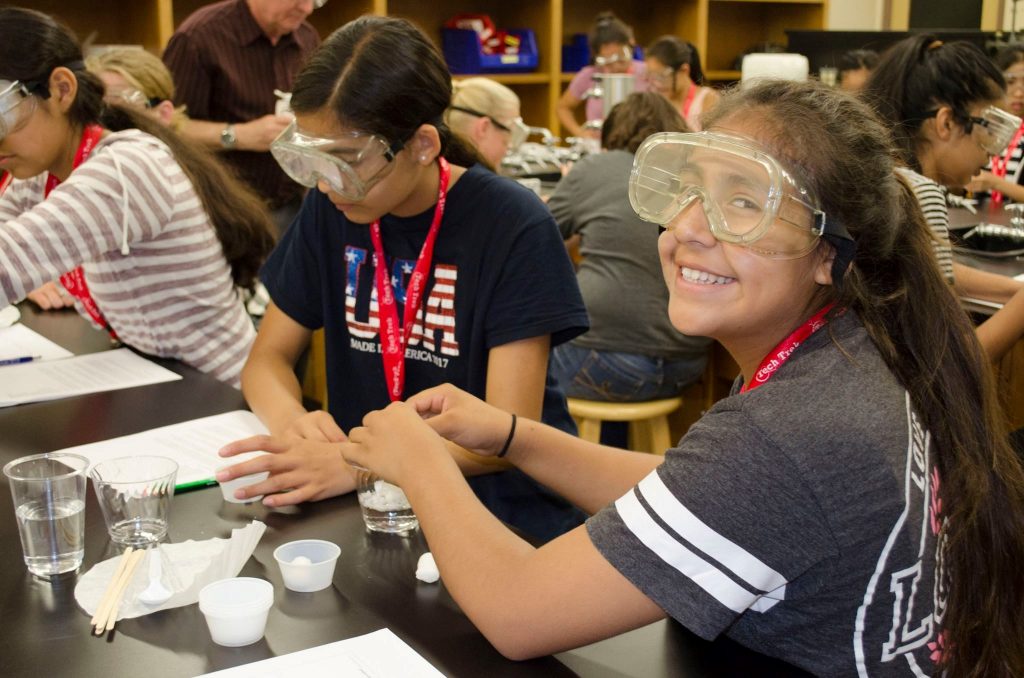 "When I first arrived at Camp, I was actually really nervous," said one camper at Camp
Curie. "Tech Trek has really expanded my mindset to new things and new jobs I never
knew I could pursue."
"I thought I brought home a different girl from the camp. She really had a great time and
she has learnt a lot," said the parent of a Camp Curie Tech Trekker after camp.
What is Tech Trek?
Tech Trek is a one week, residential science, technology, engineering and math (STEM)
camp designed to develop interest, excitement, and self-confidence in young women
who will enter eighth grade in the fall. It features hands-on activities in math, science,
and related fields. All sleeping, eating, instructional, and recreational facilities are
located on a university campus where camps are held.
Since 1998 AAUW Tech Trek camps have been designed to encourage girls in middle
school to sustain and continue their interests in STEM. Studies have shown that girls'
interests can be sustained if they are exposed to the careers available to women in
science today.
At Tech Trek, girls are immersed in a world that empowers and encourages them
to think about themselves as future doctors, scientists, engineers,
mathematicians, and computer programmners.
Also, a week's stay on an exciting college campus helps girls picture themselves on
such a campus and visualize college in their future. This is especially important for girls
whose family members have not gone to college or university
Where do we find our campers?
All girls attend Tech Trek camps on scholarships provided by AAUW California branch
members, working with participating middle schools in their area. Seventh grade
science and/or math teachers at these schools recommend prospective candidates who
then go through an extensive qualification process that includes an application, an
essay, and a personal interview. Camp curriculum is targeted specifically at girls
entering 8th grade.
AAUW branches are not always able to work with every local school, either because the
principal, counselors, and/or teachers choose not to participate, or because there are
too many schools and too few scholarships available in the local area. Girls must attend
the camp at which the local AAUW branch has made reservations.
Parents cannot provide a scholarship or nominate their daughters. All campers
must attend a participating California school, be nominated by their math/science
teachers and then be interviewed and selected by their local AAUW branch
members. Do not contact the camp directors to inquire about your daughter's
eligibility. Please contact your local AAUW branch.